Misty O'Brien is releasing her newest kit today titled "Romantical", it is one of my favorites so far. Misty is a very talented designer over at Gingerscraps. Here is a preview of the "Romantical" kit:
Isn't it beautiful. It is so awesome. If you wander on over to her store, you can get this beautiful kit for 20% off running April 29th-May 3rd. Click on the preview and it will take you to her store. Did I also forget to mention that you can purchase only the papers if you prefer and they will also be 20% off through the same dates. What a deal. Just click on the preview once again and it will take you to Misty's store.
Now for the best part, here is a freebiethat Misty is offering as well. It is very cool, Romantical flair.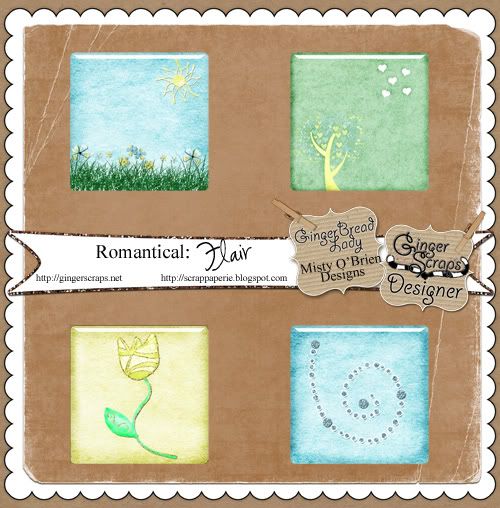 Please stop by and visit her blog and see her other awesome designs.
http://scrappaperie.blogspot.com/
Here is my LO that I created:
Misty herself
Here are some beautiful LO's that were created by Misty's awesome CT:
Marie
quietangelsb
Christie Dawn
Glenda
Jenn
Charmaine
Tara